International After Sales
Climats as one of the worldwide leading climatic chamber supplier has its own service department in order to enable you to enjoy the best of our climatic chamber.
Today, thanks to our service department and our representative network, Climats has the capacity to offer you a whole range of technical services all around the world in perfect conformity with local rules and legislation.
The unique technology of our control and regulation software SPIRALE VISION allows a very fast diagnostic of your equipment by our team located in the factory in France. Indeed, one of the numerous features of SPIRALE VISION is to generate a back up file containing all the technical information detailing the status of your equipment, level of performance, presence of failures etc. This back up file can be sent via email, then investigated by our team less than one hour later after the generation.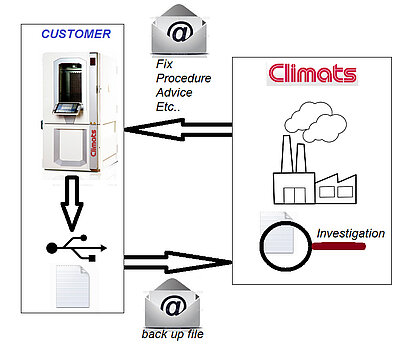 MAIN ACTIVITIES
Installation & set-up of your chamber
Training
Preventive maintenance
Repairing
Metrology (characterization, calibration)
COMPLEMENTARY ACTIVITIES
Expertise
Tightness control

Parts supply